5 home improvements that instantly add value
Even if you've just started thinking about selling your house, making home improvements can be beneficial for many reasons. The hard part isn't making the list, it's figuring out how to prioritize so you get the most out of your investment. Should you remodel your kitchen first and then build a new backyard deck? What will create more value—a new master suite or replacing the roof?
Fortunately, there are smart ways to maximize your home's resale value through strategic renovations. Below are some tips for prioritizing your projects and insight on which specific projects will maximize your time, money, and effort.
How to prioritize your home improvements
1. Make repairs first. If your roof leaks, your plumbing is out of order, or safety hazards exist in your home, you should prioritize these types of repairs before you begin other projects.
2. Keep up with the comps. When you sell, buyers won't compare your home to national averages across the U.S. They will compare your home to similar homes for sale in your neighborhood. Local real estate agents can provide free advice about the "comps" in your area. If all of them have updated siding, that may be a smart priority for your home as well.
3. Know the trends. Homebuilders know what buyers want in their next home. Look at new homes online and visit model homes in your area to help you prioritize your own improvements so you can compete with newly built homes when you sell. Knowing what's in style will also help you determine if the new flooring you've chosen is on-trend (or on its way out).
4. Prioritize the pretty. If your goal is to maximize your home's resale value, focus on improvements that will entice buyers when they look at pictures of your home online or tour your home in person. An updated kitchen adds more visual appeal than attic insulation, which buyers aren't as likely to notice.
5. Do your research. If you want your remodeling efforts to improve the value of your home, the Cost vs. Value Report, produced annually by Remodeling magazine, can be a helpful place to start. Only one of the top five projects—the kitchen remodel—was inside the home. The other four were outside, and three involved curb appeal, an important lure for buyers when you sell.
The report also offers cost and resale value data for projects on a regional and city-by-city basis. Drilling down can help you prioritize your projects to find those that fit within your budget and potentially return more than they cost.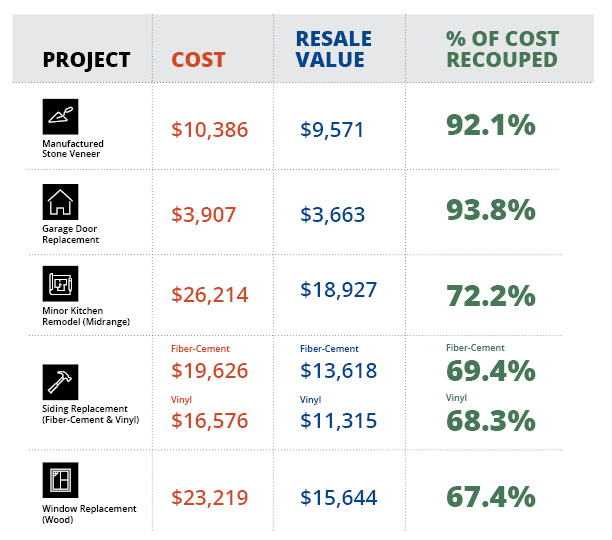 Prioritizing home renovations isn't only about resale value. You'll also get to enjoy the improvements you make for as long as you own your home, and your improvements could help you stay in your home longer, even as your housing needs change over time. Combine a better home now with the potential payback later, and strategic home improvements can make a lot of sense.