Small business, big impact: How to make your business more eco-friendly
Small businesses can play an important role in sustainability despite typically having small environmental footprints. By building a sustainable business, a business that deliberately adopts strategies and practices to reduce the impacts of their operations on the natural environment, you can benefit the environment and build your customer base.
Sustainability doesn't just mean recycling; it can also encompass energy use, transportation, and more. If your small business doesn't yet have a sustainability plan or your existing plan hasn't been updated for a while, revisit your goals in this area and develop new strategies to achieve them.
Environmental sustainability matters to customers
Studies that measure the benefits of sustainable business practices tend to focus on major corporations rather than smaller operations. That doesn't mean smaller-scale sustainability doesn't matter, only that its benefits may be harder for researchers to quantify.
That said, there's no doubt that sustainability is an important issue for businesses of all sizes.
A 2020 survey by the IBM Institute for Business Value (IBV) found that more than two of every three respondents believed environmental issues were very or extremely important to them personally. More than half of this survey's respondents said they'd pay a premium for brands that were environmentally responsible, and almost as many said they'd take a pay cut to work for a company they believed was sustainable.
Other IBV studies found that 57% of respondents were willing to pay more for recycled products and the use of recycled materials in packaging and/or product manufacturing; 84% considered sustainability important when choosing a brand, and 62% were willing to change their purchasing behavior to help reduce negative environment impacts.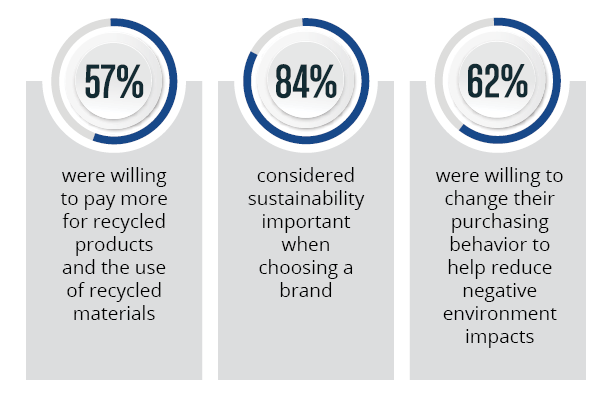 This and other studies point out that consumers—i.e., customers—care about this issue and will modify their behavior to match their beliefs.
Sustainability ideas for small businesses
Like your larger counterparts, your small business can establish sustainability goals and take steps to achieve them. Goals in this area aren't one-size-fits-all. Each business, regardless of its size, needs a plan that's tailored to its location, operations, and values, among other factors.
With that in mind, here are some examples of sustainable business objectives that may spark ideas for your small business to become more sustainable:
1. Make energy efficient updates.
Small businesses can become more sustainable by switching to more energy-efficient products, like LED light bulbs and energy efficient appliances. Whether you're shipping products or using take-out containers, you can upgrade to sustainable packaging that is recyclable or compostable. Consider using vendors that work to offset their carbon emissions or selling your product with companies like Etsy which aims to offset 100% of the carbon emissions from shipping and packaging products sold through its website by investing in projects that reduce or offset carbon emissions. You can reduce your own carbon emissions by offering employees incentives to work remotely (if possible) or to walk, bike, or take public transportation to work.


2. Reuse, recycle, refurbish, and redeploy resources to reduce waste.
Adopt practices that reduce the amount of waste your small business is sending to a landfill. Landfills can help to keep communities clean and prevent the transmission of disease. They can also destroy wildlife habitats, contaminate water sources, and contribute to global warming. It can be as simple as asking employees to bring plates and utensils for lunch rather than providing disposable plates and utensils. If you're in the food service industry, consider composting and if your business deals with a lot of paper, consider ways to go digital or contract with a shredding/recycling company.

It may even be possible to make recycled products. Is there a way to innovate what you're selling to customers? Clothier Rothy's sells shoes and handbags made from recycled plastic bottles and encourages its customers to drop off used Rothy's products at its retail stores to be recycled.


3. Support sustainability initiatives in your communities.
Sustainability is a team effort. Support governmental and nonprofit agencies' efforts to cut emissions, reduce waste and use less water. Project Drawdown presents and ranks dozens of solutions for communities, businesses and individuals that want to prioritize sustainability.


4. Become a certified B Corp.
Small businesses that meet certain standards of social and environmental performance, transparency, and accountability may qualify to become certified B Corps. These companies strive to operate profitably and create a more just future for all people and the planet. More than 6,900 certified B Corps of all sizes exist in more than 90 countries and 160 industries, according B Labs, the nonprofit that certifies B Corps.
5. Involve your employees in sustainability goals.
Creating a more sustainable business may be simple if your employees are engaged and willing to get involved. You may be surprised by what your employees have to offer- In addition to their personal passion for the environment, some employees can bring a wealth of personal experience and expertise to help improve your company's approach to sustainability.
Your small businesses' impact on the environment may seem small but taking some of the steps here can have a big impact on your carbon footprint and your customers. When people know your business shares their values, they're more likely to support and shop from you more frequently. It doesn't take much to become a good steward of the environment.