Fulton Bank Commits $100,000 To The African American Chamber Of Commerce Of New Jersey
Published

on

05/12/22
Written

by

Lacey Dean
Fulton Bank Commits $100,000 To The African American Chamber Of Commerce Of New Jersey
Fulton Bank Commits $100,000 To The African American Chamber Of Commerce Of New Jersey
LANCASTER, Pa. (April 12, 2022) -- Fulton Bank, a division of Fulton Financial Corporation (NASDAQ: FULT), today announced a $100,000 commitment to the African American Chamber of Commerce of New Jersey (AACCNJ).
The funds, which will be provided to the AACCNJ over a five-year period, will be used to support general operations, existing programs, and initiatives including:
The Village Program is an initiative that provides financial literacy training for low and moderate-income families in underserved communities.

Technical Assistance for Small Businesses helps entrepreneurs and minority businesses in need of micro loan funding for COVID-19/pandemic relief, recovery, and business expansion.
"Fulton is committed to helping individuals, families and businesses in underserved communities grow and prosper through training and education," said Lou Lombardi, regional commercial executive for Fulton Bank in Greater Philadelphia and New Jersey. "We look forward to working with the Chamber over the next several years to build and maintain successful small businesses and vibrant neighborhoods in New Jersey."
"The relationship forming between Fulton Bank and the African American Chamber of Commerce of New Jersey (AACCNJ) will provide mutual value for mutual benefit. As the businesses and individuals that the Chamber serves expand their financial literacy and build their businesses they become the clients and customers of the future for Fulton Bank," said John E. Harmon, Sr., founder, president, and CEO, AACCNJ. "Those future customers will participate more fully in the economic mainstream strengthening the overall competitiveness of our state. The African American Chamber of Commerce of New Jersey is extremely excited to engage with Fulton Bank as we work together to build a stronger eco-system in underserved communities across New Jersey."
The AACCNJ has a strategic partnership with the United States Chamber of Commerce (USCC) and the National Black Chamber of Commerce (NBCC) coalescing around free enterprise and capitalistic activities and initiatives. You can learn more at www.aaccnj.com.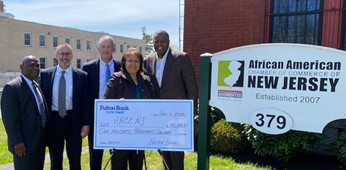 Photo Caption: From left to right: Phillip Woolfolk (COO, AACCNJ), Andy Agger (Commercial Market Executive, Fulton), Sean Murray (Commercial Market Executive, Fulton), Priscilla Luppke, Regional Consumer Executive, Fulton), and John Harmon (Founder, President and CEO, AACCNJ)

About The African American Chamber of Commerce of New Jersey
The AACCNJ performs an essential role in the economic viability of New Jersey. While providing a platform for New Jersey's African American business leaders to speak with a collective voice, the AACCNJ advocates and promotes economic diversity fostering a climate of business growth through major initiatives centering on education and public policy. The Chamber serves as a proactive advocacy group with a 501(c)(3) tax exemption, which is shared by the National Black Chamber of Commerce.

About Fulton Bank, N.A.:

Fulton Bank, N.A. is a subsidiary of Fulton Financial Corporation, a $26 billion financial holding company headquartered in Lancaster, PA. Fulton Bank operates more than 200 financial centers throughout Pennsylvania, New Jersey, Maryland, Delaware and Virginia. Learn more at FultonBank.com.

: